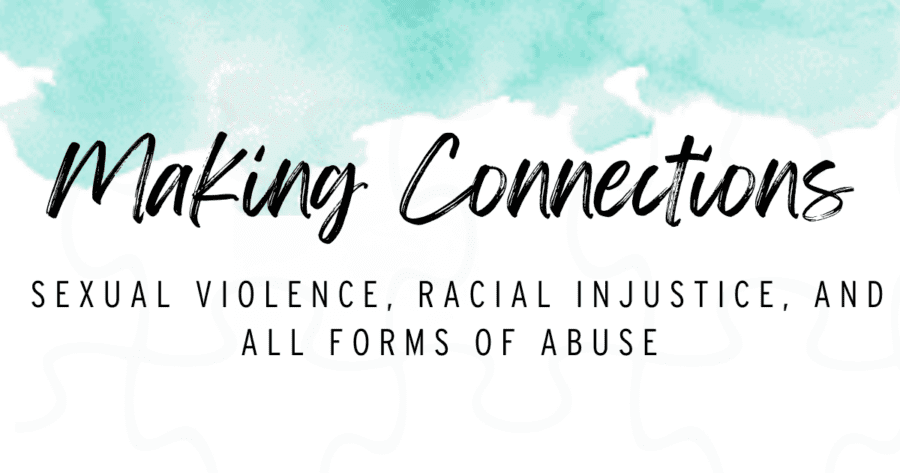 This Q&A page is meant for white audiences struggling to understand how issues of racism and sexual violence are connected, and why preventing sexual violence requires ending white supremacy culture. It also explains white people's role in making these changes.
How is the sexual violence movement tied together with the movement to end racial injustice?
At its heart, doing the work of sexual violence prevention is:
 A refusal to accept abuses of power in the world,
A commitment to stopping those same abuses from continuing, and
 Providing space for victims to reclaim their power.
Violence is rooted in oppression.   This includes racial violence and sexual violence. . Since all forms of violence share the same root, , we cannot just focus on one without looking at other forms of violence.  If we focused on only one aspect, the problem would never be solved and the specific needs of all victims would never be met. All forms of prejudice against marginalized communities — like racism, sexism, heterosexism, transphobia, and ableism — feed into the inequity and abuse that underscore all forms of sexual violence. In order to prevent sexual violence, we must acknowledge and take steps to undo the systemic ways racism shows up in our communities and our work,.
We Can't End Sexual Violence Without Ending Racism.
What is meant by 'performative allyship'?
Being performative is when we do things in a superficial way just to say we did them or to make ourselves feel better but no actual change takes place. Performativity is often done to increase social standing when a specific topic is 'trending' or 'popular'.  For example, if we only do the work of educating ourselves on Black history (one month a year), or on Juneteenth (one day a year), we begin to be performative in our commitment to social justice.Even though it's symbolically significant that Juneteenth is a national holiday, a white person taking the day off work doesn't create real meaningful differences for people who are subjected to racism. We want to shift our mindsets away from thinking about celebrating any one day or  doing one single action as a complete workload in ending racial injustice. We instead must  incorporate action into the way we move through the world each day. People of color do not have the privilege to choose to take a break from institutional racism- it affects them everyday. Therefore, the work of allies must be done every day. Maintaining a focus on the injustices perpetrated against Black, Indigenous, and people of color is not work that is only done on one day of the year or a task to be checked off a list.  It must be integrated into our work at all times. Celebrating Juneteenth AND Fighting the System All Year Long